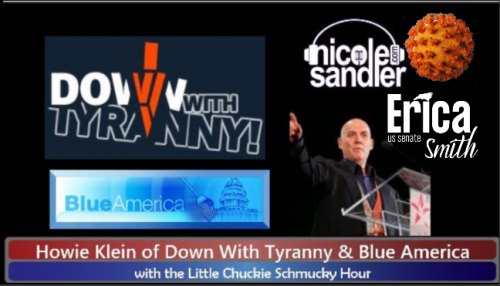 Download here or click below to play, (or watch the video at the bottom of the page!)
Every Thursday, I'm joined by Howie Klein. Since leaving his post as president of Reprise Records years ago, Howie has put his energies to work to make the US a more progressive nation. To that end, he blogs at DownWithTyranny.com, and founded the Blue America PAC. Along with Digby and Crooks & Liars' John Amato, Howie vets potential candidates, and helps the true progressives among them by raising money and helping to get others on board.
Today, one of Blue America's endorsed candidates is our guest. Erica Smith, running for the US Senate from North Carolina, will check in with Howie and me from the road where she's knocking on doors. You can find out more about Erica at her website, ericaforus.com.
As usual, we'll start the show with the latest news. The awful lead of today's news was the attack on the thousands of people trying to escape from the Taliban at the Kabul airport. The latest reports says 12 US soldiers were killed, along with a number of civilians, and many injured. The military is warning that they believe more similar attacks are imminent.