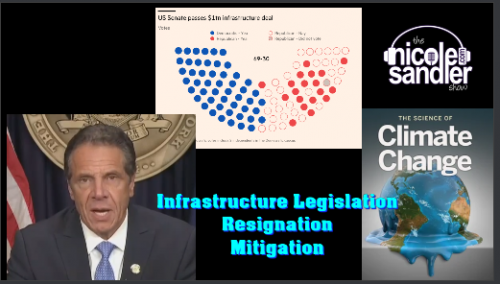 Download here or click below to play, (or watch the video at the bottom of the page!)
The month of August used to be slow. Everything shut down. But there's no such thing as a slow news day anymore.
Today, we have a lot of ground to cover. We'll begin with Infrastructure legislation. As Joe Biden said, "After years and years of infrastructure week, we are on the cusp of infrastructure decade." And it has begun…
Then we move to Resignation… Andrew Cuomo's resignation, to be precise.
And we'll finish with Mitigation. That's the buzzword as we must finally act to slow climate change and save the planet. Just yesterday, the IPCC (Intergovernmental Panel on Climate Change) issued its official 2021 report, and it was devastating! I'll speak with Dr. William J. Ripple, longtime climate emergency expert. A few weeks ago, he wrote  World Scientists' Warning of a Climate Emergency, a report which has been co-signed by 14,000 scientists from 156 countries, was the subject of a piece in The Guardian and amplified by prominent activists like Greta Thunberg. In it, he provides key recommendations necessary for comprehensive climate mitigation.
We started the show with a bit of humor that didn't age well from Randy Rainbow. It was his tribute to Andrew Cuomo! I wonder if we'll see a sequel!
And here's the YouTube version of today's show