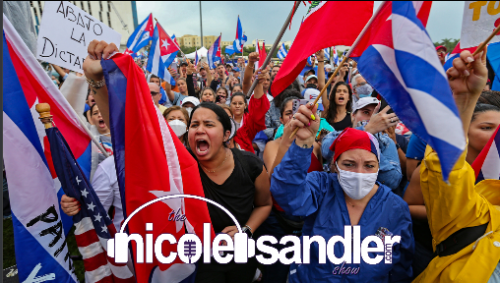 Download here or click below to play, (or watch the video at the bottom of the page!)
History is happening as Cubans take to the streets protesting their lousy government for the first time in more than two decades, and probably only the third time in the past 60 years or so!
My guest today is journalist and author Anthony DePalma, author of the book, The Cubans: Ordinary Lives in Extraordinary Times. who also wrote an op-ed published in the Washington Post this week. He'll give us a bit of the history and explain what's happening in Cuba now that brought its people out into the streets. And I'll fill you in on the Florida double-standard (aka hypocrisy) concerning the protests.
We also deal with the reality that is people who won't get vaccinated are screwing everything up for the rest of us. New COVID infections are up in every state. Of course, here in FloriDUH, we get credit for one of every five new cases.
In England, they're allegedly lifting all lockdown orders effective Monday. I can't imagine that'll last for too long. But it did inspire a wonderful new song from the Marsh Family, which I shared at the end of the show. Enjoy!
And here's today's YouTube version of the show for those who like to watch… have a great weekend!