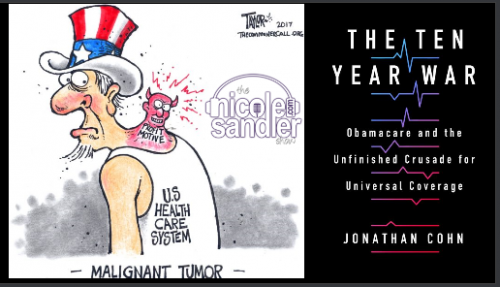 Download here or click below to play, (or watch the video at the bottom of the page!)
The Supreme Court handed down four decisions today as they soldier on to the end of the term next week. (There are still 8 cases to opine on. The next announcements will come Friday.) Last week we got the good news that, for the third time, the Supreme Court did not overturn the Affordable Care Act (aka Obamacare). That said, this country's health care system is still on life support.
Jonathan Cohn of HuffPost has been covering the healthcare beat for many years. He just released his second book on the subject, The Ten Year War: Obamacare and the Unfinished Crusade for Universal Coverage during the pandemic. He joins us today to tell our prognosis.
I played a clip from a 1963 television "press conference". In it, Dr. King rails against the filibuster and how it was used, keeping Black people from voting. It's astounding.
The entire 30-minute program is archived at C-Span. Here's their description of it.
Martin Luther King, Jr., was interviewed by four journalists for "Press Conference U.S.A.," a U.S. Information Agency (USIA) series that was distributed internationally. The interviewers were George Enninful, United Nations correspondent for the Ghana News Agency, William Workman, associate editor of Columbia, South Carolina's, State newspaper, T.V. Parasuram, Washington correspondent for the Indian Express, and program moderator Robert Lodge. By law, USIA programs could not be shown in the United States until 12 years after production.