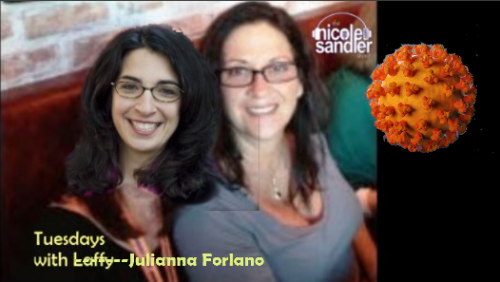 Download here or click below to play, (or watch the video at the bottom of the page!)
We usually spend Tuesdays with @GottaLaff, discussing what's happening in the news as gleaned from her Twitter stream. Laffy has been dealing with a horribly painful case of tendinitis, affecting both hands! She's been in physical therapy and hopes to be able to rejoin us sometime soon.
Today, filling her big shoes is Julianna Forlano, who you can usually catch over at act.tv. Today, we'll dish on the news, and there's lots to talk about.
At the top of the show, I shared a NY Times article "What Georgia's Voting Law Really Does." You should read the whole thing. But here's the 16 key provisions that will limit ballot access, potentially confuse voters, and give more power to Republican lawmakers the article identified:
I shared a couple of funny videos today. First, an actual postal worker who has a few choice words for Louis DeJoy
And Lauren Mayer had some words for Joe Manchin
And here's  today's show on video, courtesy of Twitter
.@GottaLaff is still out, tending to a bad case of tendinitis. So today, the role of Laffy will be played by @JuliannaForlano. Showtime 5ET/2PT… Watch/listen right here! https://t.co/yYQsHzipIf

— Nicole Sandler (@nicolesandler) April 6, 2021