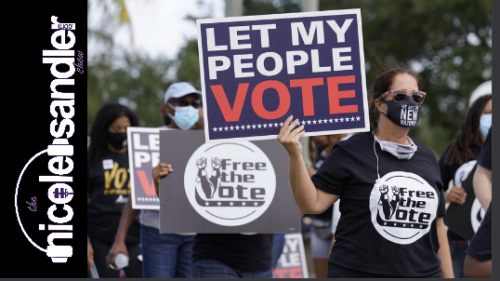 Download here or click below to play, (or watch the video at the bottom of the page!)
Votes matter! Turnout in the 2020 presidential elections broke every record. The numbers are astounding. And the fact that we had such record turnout while battling a global pandemic is even more incredible. Instead of celebrating the successes, dozens of state legislatures have introduced hundreds of pieces of legislation to restrict voting access in 2021!
Arizona leads the nation in proposed voter suppression legislation in 2021. They've already introduced 24 restrictive bills this year,
My guest today is Katie Hobbs, Arizona's Secretary of State. Her responsibilities include administering all elections in the state and certifying their results. She's also second in line in the state of Arizona to the governor. Both she and the governor, Republican Doug Ducey, are up for re-election in 2022. She hasn't announced her plans yet.
Today, we heard a song parody from yet another talented family on YouTube. This time it's the Burnette Family imploring you to get vaccinated.
And here's today's show, YouTube style