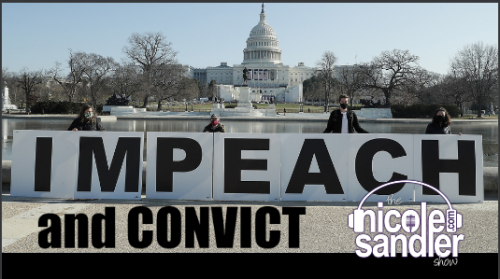 Today was the first day of the second impeachment trial of Donald Trump. This is the first time in history that any elected official, current or former, has ever been impeached twice! Donald Trump would brag about that distinction because that's what he is.
Anyway… today, Lead Impeachment Manager Congressman Jamie Raskin started. He explained that Donald Trump was guilty of inciting an insurrection on January 6, and that he must be held accountable for his actions. And he went to the video.
The argument today was about the constitutionality of impeaching a former president.  Jamie Raskin, Joe Neguse and David Cicilline, who all presented for the Democrats today, were thorough, prepared and eloquent. Trump's lawyers were none of those things. Abysmal is more accurate.
Dave Johnson joined me today to discuss what happened today. And in the end, six Republicans voted with the Democrats, agreeing that the impeachment is constitutional, allowing the trial to proceed!
We'll continue tomorrow!