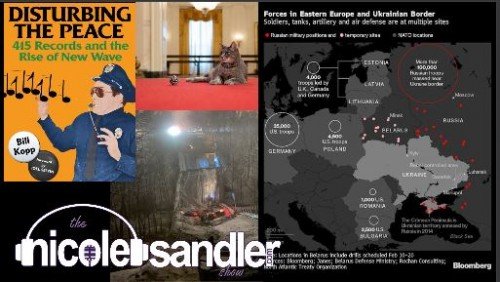 Download here or click below to play, (or watch the video at the bottom of the page!)
When I started in radio while in college at the University of South Florida in the per-authoritarian days of the US back in 1979-80, I hosted a show called Free Form Radio. The title wasn't very creative, but the programming was. Now, in the big corp era, there is no such thing as "free form radio" any more, except on perhaps the most creative college non-commercial stations, but you'll have to really dig deep to find them.
When I was starting in radio, the punk and New Wave scene was already going strong. Our regular Thursday guest, Howie Klein, was an integral part of that music scene in San Francisco. He and his work back then is the subject of a new book, Disturbing the Peace: 415 Records and the Rise of New Wave. Author Bill Kopp joins in for the final segment of the week to talk about it, and tell us some things about Howie we otherwise wouldn't know. Before we exit the serious world of news, politics and important information, we'll recount some of the day's breaking news stories… and as usual, there's lots to choose from. But the weekend is almost here!
Since I was in a musical mood, I went into overtime and added an interview from November 6, 1996 with the always awesome Graham Parker. Enjoy.