Do you shop on Amazon.com? Use The Nicole Sandler Show Amazon Portal! It works just like the regular site, doesn't cost a penny more, but we get a small commission on every purchase. The more you buy, the higher our commission rate! So don't be an asshole, use the porthole, er, portal!
Try Amazon Prime for free for 30 days. Aside from FREE 2-Day shipping, you also get lots of Amazon Kindle, video and mp3 access. Even if you don't convert to the paid service, we still get a commission. It's win-win!
If you give a gift trial subscription to a friend
, we get a little tip too.
Try Prime. You get free two-day shipping and free access to Amazon's TV offerings, including Transparent – one of the best shows on TV!
This isn't from Amazon, but is a great resource if you have old home movies or videos to convert, please check this out:
If you have 8mm films in need of transferring, consider using my FilmFix Portal, or type in the promo code NICOLE on the FilmFix.com website, when placing your order. Either way, you will benefit from a discount and I will benefit from a small commission.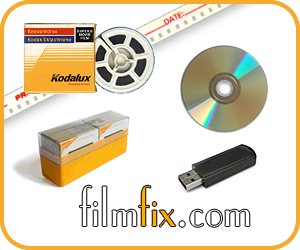 FilmFix is a husband and wife team who are known for their personalized service and their professional, high definition (HD) film transfers. They transfer onto hard drive, USB-stick, Blu-ray, or DVD. They also perform full-frame, high resolution (6K) 35mm slide transfers and can even upscale video tape transfers to HD, if desired.
Please be sure to only send them family footage, as they do not transfer anything with copyright protection.